Slavic Soul Party T's
$20 plus $5 shipping/handling. Unisex, available in all sizes. Shirts are Canvas by Bella, 100% cotton. Please tell us what size you want and be sure to include your shipping address. Please note: we only ship to the United States for the prices above – send us a message if you want a t-shirt sent to another country.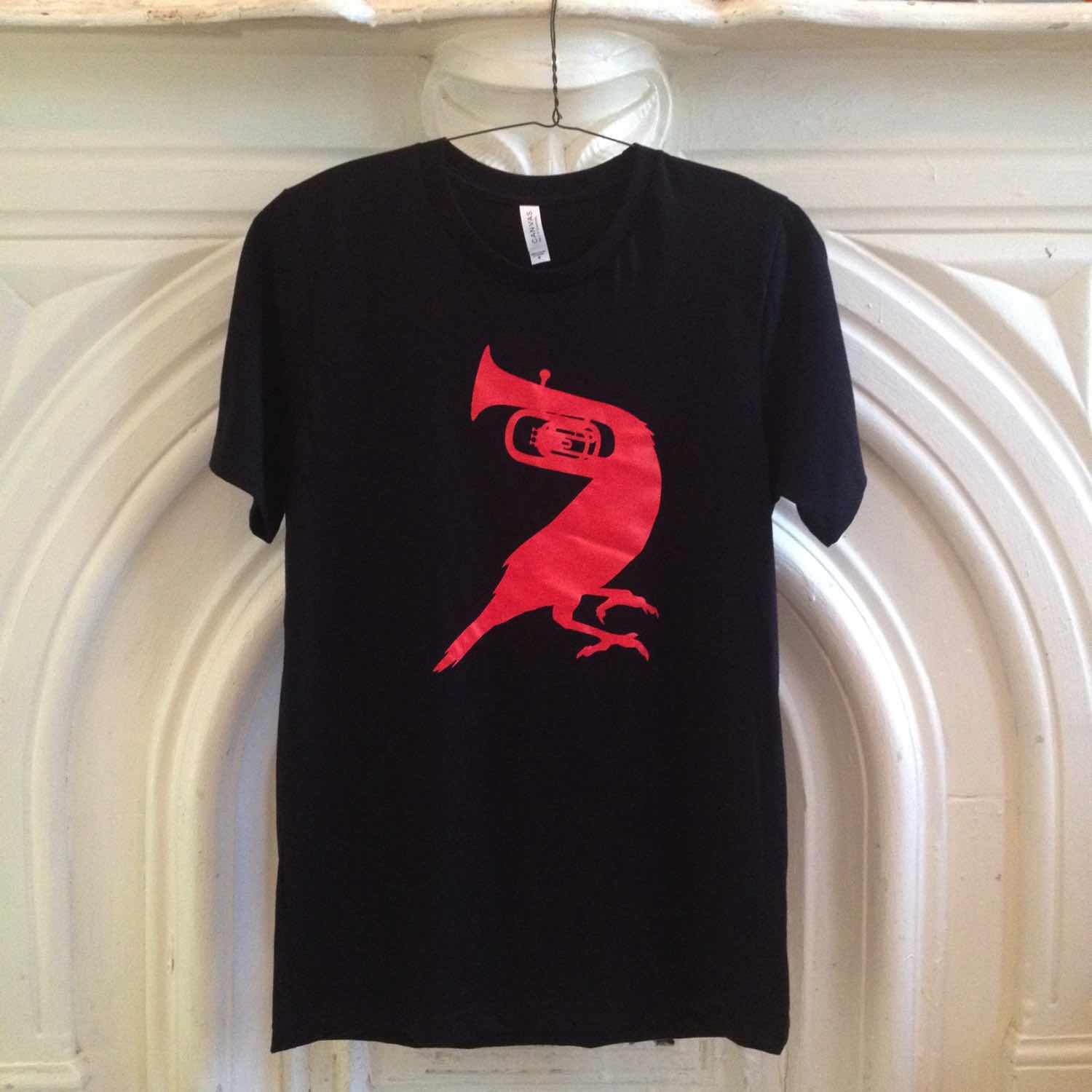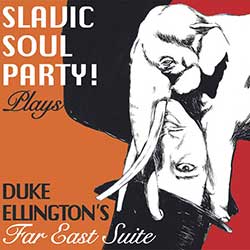 Duke Ellington's Far East Suite – Buy On Bandcamp
Slavic Soul Party! re-imagines Duke Ellington's iconic Far East Suite as an Eastern European brass band discovering an exotic American sound, reversing the "exotic tinge" and reveling in this subtle, funky, and brilliant music. Ellington's suite (created with Billy Strayhorn) was inspired by a 1963 State Department tour that was cut short – they didn't make it to the "Far East" – and serves as a perfect foil for SSP!'s blend of East European, Romani, and American sounds. With fiery Balkan brass, throbbing funk grooves, Roma (Gypsy) accordion wizardry, and virtuoso jazz chops SSP! celebrates the 50th anniversary of the Far East Suite with tours in North America and Europe. Recorded live at Barbès.
"It's a manifesto on cultural boundaries, historical lineage and how they play into individual creativity," said Olivier Conan, co-founder of Barbès and a cross-culturally obsessed bandleader himself. "It's like a giant game of mirrors with a crazy feedback loop of re-interpretations." (Wall St Journal)
"more than a novelty… The arrangement found on Slavic Soul Party! Plays Duke Ellington's Far East Suite is a match made in high-concept heaven (or maybe just in Brooklyn): a rambunctious Balkan party band reinterpreting Ellington's earthy, yet endlessly sophisticated music… What's most impressive: Slavic Soul Party! did this live, on a single night. The band took a beloved big-band score, reconfigured it for a much smaller group and executed it with precision — and dazzling energy." (Tom Moon, NPR's All Things Considered)
"a pretty heavenly match" (TimeOut NY)
Released September 16, 2016
John Carlson – Trumpet
Kenny Warren – Trumpet
Peter Hess – Saxophone / Clarinet
Peter Stan – Accordion
Matt Musselman – Trombone
Tim Vaughn – Trombone
Ron Caswell – Tuba
Chris Stromquist – Snare / Percussion
Matt Moran – Tapan / Goč / Bubanj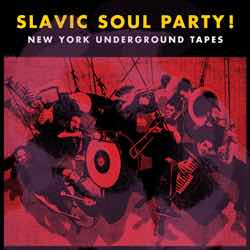 New York Underground Tapes
This LIMITED EDITION, RED VINYL 12″ LP is the perpetual underdog's dirtiest, nastiest record and a contrarian comment on the definition of success. Available only from directly from Slavic Soul Party! Includes a download card for an mp3 version of the record.
Slavic Soul Party! has blasted brass beats to the roars of men at Sing Sing prison – brawled with a Russian women's basketball team in a Bulgarian hostel – traded riffs in the streets of the mahala with a Serbian Romani band – paraded with kids through a Zimbabwe township – egged on a trucker as he stripped down to his cigarette in a Brooklyn longshoremen's bar – and their sixth record captures years of funk, chaos, vitality and dubious choices.
This LP is out of print. NY Underground Tapes is available on Bandcamp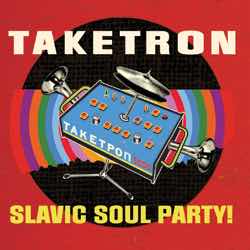 Slavic Soul Party! is more than a band, it's a promise, and anyone who has seen them live can attest to that. The massive brass band is a supercollider of Eastern European sounds from the Balkans and all the funk of American musical traditions like second-line, gospel, and jazz. Hybridity isn't just a buzzword with this New York City-based group, it's a fact of life.
"Anytime musicians study traditions deeply, and then free themselves to follow their own whims, it's a beautiful thing. But when it comes to the brass band fusion of Slavic Soul Party! that's just the beginning. With razor-sharp precision, juggernaut force, and a healthy dose of playfulness, these guys start out in overdrive and never let up… a gutpunch to preconceptions about traditional music, world music, pop music, dance music, but I'll tell you, this is one gutpunch you'll enjoy." (NPR's All Things Considered)
"…a masterpiece. At times a twirling party vehicle, at others a restrained tribute that sometimes takes on a saddened tone, Taketron always manages to be the embodiment of good-natured fun and appreciation. It's obvious that Slavic Soul Party! has worked hard to reach this level of creative synergy, with the resulting fluidity of their latest release as impressive proof." (Popmatters)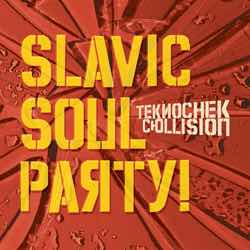 SSP!'s third cd tells the tale of Serbian-Gypsy-American automechanic and amateur filmmaker Gus Dejan, and is named after his garage in Queens, NYC. The perfect mix of blazing brass, Gypsy accordion, dance grooves, and tight tunes show SSP! at the forefront of a new wave of hybrid world music, joining the ranks of bands such as Antibalas and Gogol Bordello.
"Of all the NYC dance bands that draw on Eastern European music, Slavic Soul Party! is the coolest. And the group isn't preoccupied with rebelling against the Old World. The Big Easy funk influence on the band's recent Teknochek Collision adds a welcome laid-back quality to Balkan-brass frenetics. Live, the band's members prove they are acutely aware of the common principle that unites the traditions they borrow from: Music ought to move you." — TimeOut NY
This CD is out of print.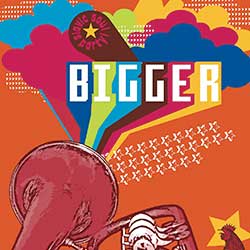 15 songs! 12 musicians! 4 roosters! 1 crazy MC!
SSP!'s second album (but first as a throbbing 9-piece monster) established the band as a force to be reckoned with, and introduced Missy Sa-Sa to the world, which became a hit with street bands around the US. Unbelievably this album was recorded live with everyone in one room, in about 4 hours. After recording the band ate Mexican food in Red Hook, Brooklyn, and then went to Barbes where they guerilla'd the Hungry March Band that was subbing for them on their regular Tuesday gig. And anyone who has been to Barbes knows how crazy it is to have two dueling brass bands in the back room.
This CD is out of print.